Yay! It's fun time this time. Can you believe that January is finished already? Phew! I can't stop saying it, time sure flies.
Welcome to my house and Happy New Year to all those I haven't chatted with this year. I hope your weekend is going great.
Here is a toast to a great year.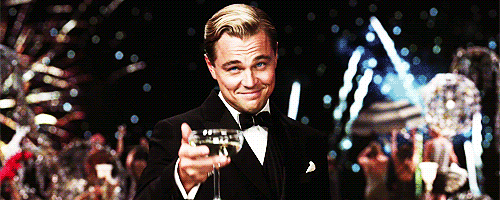 Now let's meet & mingle, shake a leg & jingle, connect & interact with other awesome folks in here.
If this is your first-time visit, the rules of play are outlined below, if you are an old-timer, you know the drill.
Grab some refreshments arranged down the page. Feel free to indulge, these are zero calories😉
Just some little party rules:
You must mix and mingle with others. Don't be a wallflower. Go say hello to someone, follow them home – this is the only time you are allowed to follow a stranger home on a first date 😉
Let us know where you are blogging from.
 Please leave your blog link or post link in the comment box below along with introductions.
It's one link per comment, but come back as often as you'd like, that way it's easier to focus on a link at a time for others.
Please reblog, spread the word of the party like butter, or like, share on Twitter, Pinterest, Google+, Facebook, etc. Tell your family, friends,  blogging neighbours, even your blogging pets.
Have fun, it's a great way to find bloggers and have them find you.
Please show some love. Reblog this post. It helps all of us! The more people that see and participate in it, the more potential new follows! So, share and share voraciously!
Thank you for coming to my party and supporting my blog. You rock.
Have you checked out my YouTube channel yet? I have a word for you.
10 Things I know about you
1) You are reading this.
2) You are human.
3) You can't say the letter "P" without separating your lips.
4) You just attempted to do it.
6) You are laughing at yourself.
7) You have a smile on your face and you skipped No. 5.
8) You just checked to see if there is a No. 5.
9) You laugh at this because you are a fun loving person & everyone does it too.
10) You are probably going to send this to see who else falls for it. 🙂
A little riddle
You are participating in a race. You overtake the second person. What position are you in?
Please check out the newly launched Author Zone just in case you have a book to promote or someone who you want to promote. Share the post as well. Thank you
REBLOG & INVITE MORE AWESOME FOLKS.